Crash Courses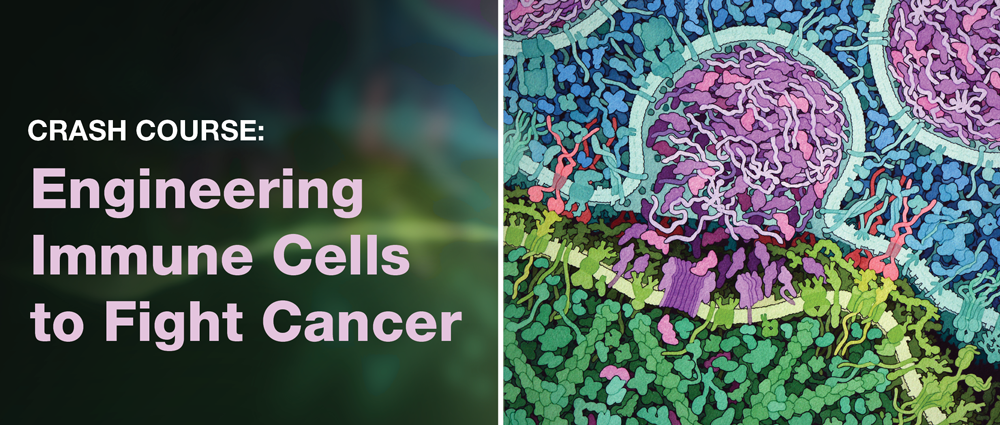 Illustration by David Goodsell.
Engineered T cell recognizing and
attacking a leukemia cell.
More information at
pdb101.rcsb.org/motm/214
Co-organized by:
Institute for Quantitative Biomedicine (IQB)
Cancer Institute of New Jersey (CINJ)
Tuesday, October 29 | 1:00 PM - 6:00 PM



Proteomics Building, Room 120
Busch Campus
Participation is free but space is limited!

Register Today
Program |
Download PDF
Co-Chairs: Stephen K. Burley and Edmund C. Lattime
1:00–1:15 pm

IQB Welcome
Stephen K. Burley, M.D., D.Phil. - IQB, C&CB, CINJ

CINJ Welcome
Eileen White, Ph.D. – CINJ


1:15–1:45 pm

Immuno-oncology Paradigm/Crash Course Objectives
Edmund C. Lattime, Ph.D. – CINJ

1:45–2:15 pm

Structural Biology of the T cell Surface
Stephen K. Burley, M.D., D.Phil. – RCSB Protein Data Bank

2:15–3:00 pm

A Biologics Platform for Clonal-selective T cell Modulation
Steven C. Almo, Ph.D. – Albert Einstein College of Medicine

3:00–3:30 pm

Group Photo (outside building weather permitting)
Coffee/Tea/Networking

3:30–4:15 pm

Interaction Kinetics and Transcriptomic Responses with
CD19 CAR NK Cell Therapy in Lymphoma
Andrew M. Evens, D.O., M.Sc. – CINJ

4:15–5:00 pm

Kymriah: Past, Present, and Future
Randi E. Isaacs, M.D. – Novartis Institutes for Biomedical Research

5:00–5:10 pm

Acknowledgments/Closing Remarks
Stephen K. Burley, M.D., D.Phil. – IQB, C&CB, CINJ

5:10-6:00pm

Networking Reception
For visitors, parking is available in Lots A, B and C opposite 679 Hoes Lane West, Piscataway, NJ 08854 (Directions). Visitors MUST register their vehicles before the event here.

Faculty, Staff, and Students must park only in lots they are authorized to park in.
Coffee and Tea will be available in the Proteomics Building 1st Floor Lobby throughout the meeting.