Boot Camp January 2021
8th Annual Interdisciplinary Quantitative Biology Winter Boot Camp
Science Communication in Biology and Medicine
Sponsors: Rutgers Institute for Quantitative Biomedicine and RCSB Protein Data Bank (PDB)
Format: Online; Dates: January 11-15, 2021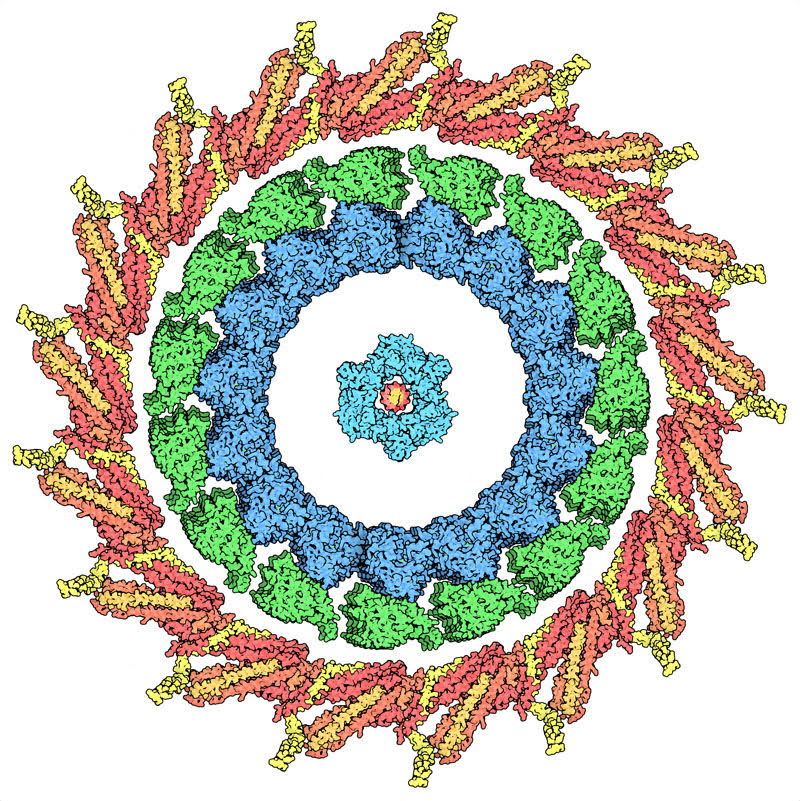 Instructors​
Research Professor David S. Goodsell, Ph.D.  (Boot Camp Director, Institute Faculty Member)
University Professor Stephen K. Burley, M.D., D.Phil. (Institute Founding Director)
Associate Research Professor Shuchismita Dutta, Ph.D. (Institute Faculty Member)
Confirmed Invited Speakers​
Maria Voigt - Graphic Designer/Software Developer, RCSB Protein Data Bank (Scientific Illustrator/Communicator)
Liza Gross - Senior Editor, PLOS Biology (Science Writer/Editor/Communicator)
Who Should Participate: U ndergraduate (sophomores/juniors/seniors) and graduate students interested in science writing/visualization/communications for biology and medicine.
Both Rutgers Students and Visiting Students are encouraged to participate.
Why You Should Participate: Successful participants will develop science communication skills, both the written word and 3D molecular visualization, by working closely with experts on writing projects that will produce content suitable for use by researchers, educators, students, and members of the curious public around the world. These skills will help you in your coursework, your research, and your career as you develop and mature as scientifically-sophisticated citizens important to the viability of our democracy.
What You Will Get Out of the Experience: Successful participants will be published scientific communicators! Your work will be published on the RCSB Protein Data Bank Education and Outreach website (PDB101.RCSB.org), which logged more than 650,000 unique users worldwide in 2019. You will be able to point to this accomplishment as you apply for graduate and professional schools, seek scholarships and fellowships, and pursue new career opporutnities.
Application/Acceptance: Interested students ​must apply for admission to the Boot Camp by submitting a brief statement of interest (100 words), resume, an unofficial transcript, and a science writing sample (pdf from your coursework or a published paper the exemplifies your work) to 2021WinterBootCamp@RCSB.org by 5pm EDT on October 31st 2020. Accepted participants will be notified no later than November 6th and provided with a Special Permission Number for registration purposes.
Registration: Accepted students ​must register for the Interdisciplinary Quantitative Biology Winter Boot Camp (Undergraduate Junior/Senior Students use 01:556:480, 1-credit Pass/Fail; Graduate Students use 16:848:601, 1-credit pass/fail) to participate in the Boot Camp. Space will be limited. You need to register within two weeks of receiving your Special Permission Number to reserve your place in the Boot Camp.
The Experience: The Boot Camp will be an intensive, immersive, hands-on learning experience spanning five full days (~8 hours/day). Participants will work in teams of three participants each under the direction of Boot Camp Instructors. All activities will be online.
The Value Proposition: Previous Institute for Quantitative Biomedicine Winter Boot Camps have changed the lives and benefited the careers of 100s of Rutgers students since we began offering this opportunity in January 2014. 
Our Creative Process: Each team will work together online to draft a new RCSB Protein Data Bank (PDB) Molecule of the Month (MotM) article destined for publication on PDB101.RCSB.org. Individual team topics will be selected from a list pre-determined by RCSB PDB leadership. To learn more about MotM, visit PDB101.RCSB.org .
Your Deliverables: Each team will produce a polished draft MotM article describing their selected topic, complete with literature references and illustrations.
Our Final Review Process:​ Draft MotM articles will be refereed by Boot Camp Instructors and subject matter experts.
Your Publications: Accepted MotM articles will be published on the PDB101.RCSB.org website with each responsible team member listed as a co-author together with David Goodsell. MotM articles will be citable on your resume and curriculum vitae using a unique Digital Object Identifier (DOI).
Learn More About  the Protein Data Bank:  The Protein Data Bank (PDB) is the global archive of three-dimensional (3D) biomolecular structure data . Founded in 1971 with just seven protein structures as the first open-access digital data resource in all of biology, the PDB today houses ~170,000 structures of proteins, DNA, RNA, macromolecular machines, viruses, and virus-like particles. The US-funded RCSB Protein Data Bank (RCSB.org) integrates the entire corpus of PDB data with ~40 external biodata resources, and provides easy-to-use web-based search and molecular visualization tools to assist many millions of PDB data consumers worldwide in finding, analyzing, and visualizing 3D structures of macromolecules and their complexes with one another, drugs, antibodies, enzyme cofactors, etc. In 2019, more than 4 million unique users directly accessessed the RCSB.org website. PDB data file downloads in 2109 numbered more than 800 million.
Learn More About Molecule of the Month: The RCSB PDB MotM series edited and authored by ​ David S. Goodsell (RCSB PDB and The Scripps Research Institute) presents short accounts on selected molecules from the Protein Data Bank. Each article includes an introduction to the structure and function of the highlighted molecule, a discussion of the relevance of the molecule to human health and welfare, and suggestions for how visitors might view these structures and access further details.  In 2019, more than 650,000 individuals worldwide accessed PDB101.RCSB.org.
Schedule of Events January 11th-15th 2021
Monday January 11th 2021
Morning Session:
Orientation: Introductions/Objectives/Communication (SKB, DSG, SD)
Lecture: Researching your MotM article focus topic (SKB)
Lecture: Designing your story and choosing 3D structures from the PDB that tell the story (DSG)
Break
Lecture: Basics of scientific writing (SKB) and visualization (DSG)
Lecture: Science is a Team Sport! Suggestions for how to work in a collaborative team (SKB)
Afternoon Session:
Teamwork: Meet your teammates and get to know your mentor
Teamwork: Discuss briefly and provide 1st/2nd/3rd choices of topic
Teamwork: Receive writing assignment for the week
Break
Teamwork: Make initial work assignments
Teamwork: Begin literature searching
Teamwork: Begin discussion of the story
Tuesday January 12th 2021
Morning Session:
Lecture: Tools for finding structures: PDB (SKB)
Lecture: Tools for visualizing structures: Mol* (SD)
Break
Student Progress: Short reports from each group
Lecture: Tools for visualizing structures: Illustrator and Jmol (DSG)
Afternoon Session:
Teamwork: Identify structures that will motivate your story
Teamwork: Continue literature searching
Teamwork: Continue discussion of the story
Wednesday January 13th 2021
Morning Session:
Invited Lecture: Visualizing Proteins and Nucleic Acids in 3D (MV)
Break
Student Progress: Short reports from each group
Teamwork: Identify PDB structures that will motivate your story
Afternoon Session:
Teamwork: Begin designing molecular visualization images
Teamwork: Finalize discussion of the story and outline your article
Teamwork: Finalize images
Thursday January 14th 2021
Morning Session:
Invited Lecture: My Journey as a Science Communicator (LG)
Break
Student Progress: Short reports from each group
Teamwork: Finalize outline and make writing assignments
Afternoon Session:
Teamwork: Teamwork: Write individual sections
Teamwork: Exchange/edit sections
Friday January 15th 2021
Morning Session:
Teamwork: Consolidate edits to produce your final draft of the MotM article
Afternoon Session:
Student Presentations: Formal presentation and critique for each MotM article
Break
Debrief: Provide feedback to instructors and complete Boot Camp survey